Nick Harkins
Assistant Coach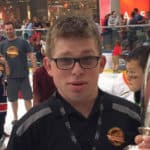 Nick will be entering his 4th year with the BC Brick program and in those 4 years, Coach Harks has evolved as leader with a quick mind and approach to the game for identifying the other teams matchups and weaknesses.
Nick has also worked with the Vancouver Vipers Program and North West Warriors teams as an assistant coach and as part of the staff that Won the CSSHL Bantam Varsity Championship 2018-2019 season.
Nick will be joining the Saint Georges Academy as an Assistant Coach for their Bantam Prep Team.